Teachers and Students of the College of Chemistry and Chemical Engineering Watched the Grand Celebration of the 70th Anniversary of the Founding of the People's Republic of China Together
By
|
2019-10-08 09:38:00
|
Views ()
At 7:00 am, October 1, all league cadres of the College participated in the flag-rising ceremony "Forging Ahead with My Motherland, Making Contribution in the New Era"-- Lanzhou University's Celebration to the 70th Anniversary of the Founding of the People's Republic of China. Early in the morning, as academy flags flying in the autumn breeze, students of the College lined up in front of Kunlun Building with their chins up and chests out.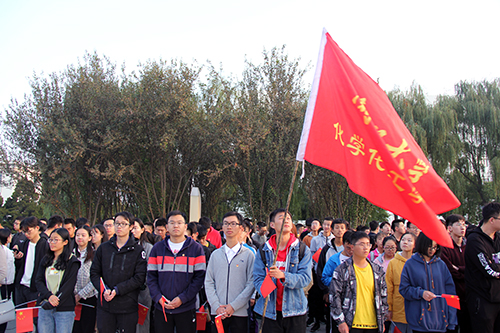 With the sunrise, the flag-rising ceremony officially began. The National Flag Guards, holding their heads high, escorted the national flag to the platform and raised it with the sonorous March of the Volunteers. With the league emblems on their chests glinting in the sunlight, the students watched the raising flag and sang:" Sing a song praise for our dear motherland, Toward prosperity and a strong nation..." The familiar melody, accompanied by the waving small national flags, showed their best wishes for the motherland.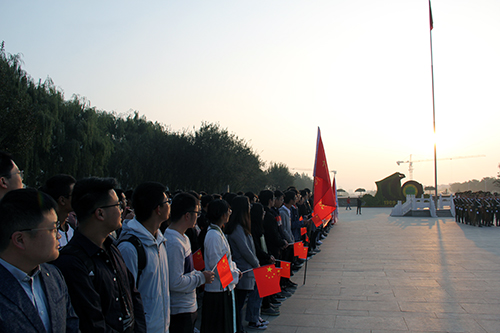 After the flag-rising ceremony, in Room C201 of Tianshan Building, led by Zhang Haibo, party secretary of the College, Chen Xiaofen, head teacher of Class 2019, and Jiang Bo, deputy secretary of Youth League Committee, the undergraduates party branch in Yuzhong Campus, party groups of all grades, students leaders of all departments of the Youth League Committee and league cadres of all classes watched We Are Walking on the Broad Way -- a documentary which fully demonstrates Chinese people's perseverance and determination to forge ahead regardless of hardship.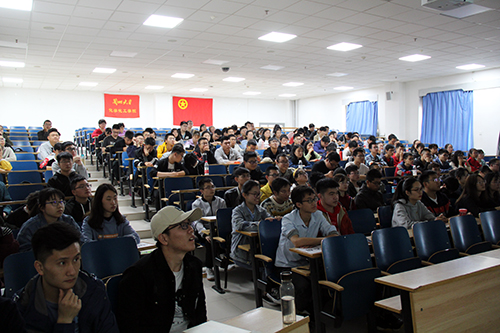 At 10:00 am, the grand ceremony to celebrate the 70th Anniversary of the Founding of the People's Republic of China was held in Tiananmen Square, Beijing. With excitement, more than 100 teachers and students witnessed this sacred and solemn moment together in Room C201, in which rounds of warm applause could be heard.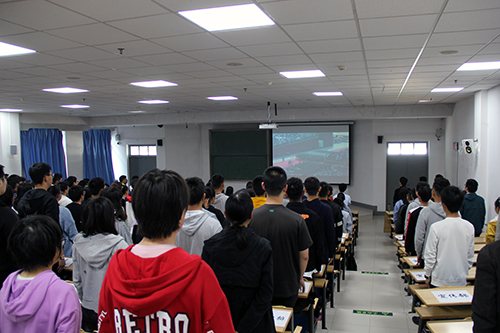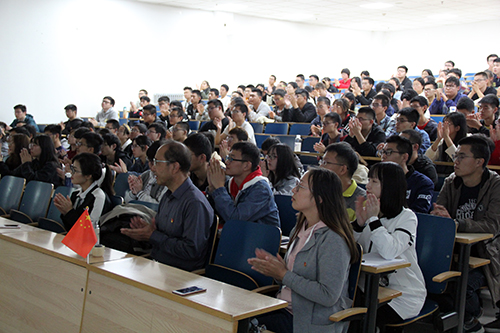 Zhang Wenshuo, a student of Class 2017, majoring in Chemistry, said: "Even though watching across the screen, I can feel the warm and solemn atmosphere there. When the military parade in the Founding Ceremony of the People's Republic of China was held 1949, China had just overthrown " the three mountains", with a thousand things waiting to be done and backward weapons and military supplies. But now, we have advanced weapons and military supplies, well-trained soldiers and military officers, a strong country and a prosperous nation. At this exciting moment, I couldn't be more proud of being a Chinese citizen. At the same time, I see the mission and responsibility which I should shoulder as an active applicant for CPC membership and a member of the Youth League Committee. In the future study and work, I will try my best to do everything, constantly forge ahead with an innovative mind, inherit and carry forward the spirit of patriotism and strive to be a model youth in new era."