College of Chemistry and Chemical Engineering of Lanzhou University and Northern China Rare Earth (Group) High-Tech Co., Ltd.Held the Signing Ceremony of JointlyCultivating Master Students
By
|
2020-06-16 08:45:00
|
Views ()
On the afternoon of June 10th, at Conference Room 309 in the 2nd Chemistry Building of LZU, to further strengthen cooperation between university and enterprise, fully exploit advantages of each side, as well as the major national strategy for colleges and universities to serve the country, so as to better cultivate applied talents with high quality and exquisite skills for the society and enterprises, the College of Chemistry and Chemical Engineering of LZU and Northern China Rare Earth (Group) High-Tech Co., Ltd. (hereinafter referred to as NCRE) held a signing ceremony for jointly training Master students. Cui Yi, Deputy Secretary of the Party Committee and Chairman of the Trade Union of NCRE, Duan Lifeng, Vice Chairman of the Trade Union and Secretary of the Work Department of Party Committee of NCRE, Zhang Haibo, Secretary of the Party Committee of the College, Dean Liang Yongmin, Deputy Deans Tang Yu, Hui Xinping and Li Bin, Deputy Secretary Jia Jing and related persons in charge attended the ceremony.
Cui Yi expressed her sincere thanks to LZU for its great support and help. She also pointed out that at present NCRE was at a critical stage to transform and upgrade production technologies, and this joint training program would provide a strong support to NCRE to further improve quality of talents and technological innovation. And a sound partnership, extended cooperation and creative collaborative models in technical research and development, doctoral programs, flexible introduction of talents and other areas were glad to be seen in the future to help to make China a true rare earth power.
Tang Yu introduced the College's basic information and LZU's research basis and outcomes in rare earth chemistry and rare earth materials, and wished that by taking advantage of this opportunity, we could better train professional talents in rare earth, promote development of rare earth industry and achieve unity between theory teaching and practice teaching.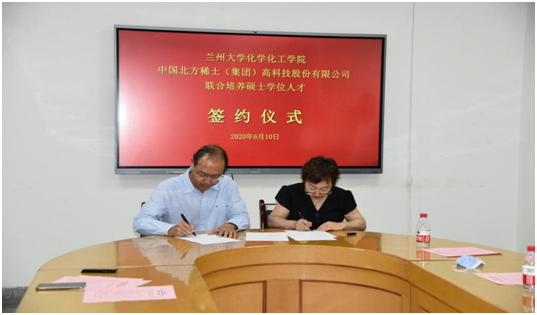 Later, Zhang Haibo and Cui Yi signed the contract on behalf of each side.
Liang Yongmin concluded that the cooperation between LZU and NCRE was an effective way to adapt to the development of the times and achieve win-win cooperation, which would play a powerful role in promoting exchanges and development of both sides and cultivating talents with higher quality. As an institution of higher education, LZU should keep to national strategies, deepen the integration of industry and education, encourage professors to learn about enterprises and industries and expand cooperation to laboratories, factories and workshops. LZU promoted the development of NCRE, and also, NCRE promoted the development of LZU's teachers and students by being its off-campus "classroom". Both sides would explore new models of university-enterprise cooperation and talent cultivating to promote the development of rare earth industry in China.