Embarking on a Wonderful Journey of Graduate Education and Pursuing a Splendid Future of Chemistry Together -- the College of Chemistry and Chemical Engineering Welcomed New Graduate Students Admitted in 2020
By
|
2020-09-14 09:52:00
|
Views ()
The following three years is essential for you to be fueled to pursue your dream, strengthen your capability and make contribution to achieve the Chinese dream in the end. President Xi highlighted the significant role postgraduate education playing in cultivating innovative talents, improving innovation capacity, promoting economical and social development and facilitating the modernization of our national governance system and governance capacity. To guarantee a sound start-up -- "Welcome the New Students", the College of Chemistry and Chemical Engineering strove to "meet" 354 new members of graduate students admitted in 2020 in its best condition.
1. Optimizing process to make the new students registration more"convenient".
In order to make sure the welcome work to go well, the College set up a leading group of welcoming new students to plan and prepare all the work in advance. In mid-August, we created QQ chat groups for master students and doctoral students admitted in 2020, and asked them to add the corresponding group one by one over the phone, thus creating an "exclusive space" for the new.
After the University releasing the epidemic prevention and control work plan for fall semester, the College immediately interpreted its spirit and also requirements for returning to school to the new through QQ chat groups, and guided them to complete online application for returning to school and information verification. And according to the University arrangement, the College proposed Registration Procedure for New Students admitted in 2020 of the College of Chemistry and Chemical Engineering. By reasonably planning route and optimizing registration process, the College aimed to make registration procedure more convenient and more efficient to the new. Eventually, on September 7th, the College successfully completed the registration work of all 352 new graduate students.
2. Attending welcoming ceremony to make us "closer".
On the morning of September 8th, the welcoming ceremony of graduate students admitted in 2020 was held in the lecture hall of Student Center, with the attendance of all leaders of the College and national key laboratories, heads of research institutions, head teachers of graduate students and some tutors of graduate students.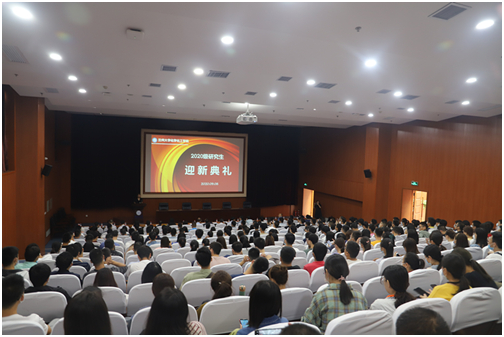 With the promotional video of the College kicking off the welcoming ceremony and showing the College's profound history and splendid outcomes to the mew, Tang Yu, assistant dean of the College, gave a brief introduction to the College considering its historical development, discipline construction, scientific payoffs and talent cultivation, and also a detailed introduction to the scholarship and grant system and employment status.
Professor Ding Sanyuan, distinguished young scholar of "Chang Jiang Scholars Program" of MOE and state key doctoral supervisor of functional organic molecular chemistry, delivered a speech on behalf of all postgraduate tutors. Based on his personal experience, he proposed four suggestions to the students: set specific goal, think out of the box, make bold innovation and keep your resolve. He also encouraged students to set up grand goal of changing the world, create new knowledge from the classic and forge ahead regardless of difficulties with the spirit of daring to doubt and face up to challenges.
Li Wenhua, master student admitted in 2020, expressed her yearning and expectation for the new journey of research that will soon start in her speech. She also said that one should constantly exceed himself or herself in intensive study, integrate into the team in sincere cooperation and communicate with his or her tutor with positive attitude. In the end, she urged all students to face up to difficulties, remain optimistic and be a pioneer who was sensitive to opportunities and dare to meet challenges.
Qian Jin, doctoral student admitted in 2018, suggested the new to understand the spirit of scientific research as soon as possible, consolidate foundation, broaden knowledge, keep in mind the original goal, turn passion into responsibility and sense of mission and make contribution to science and research. She also called on all the new to enhance the sense of identity and forge ahead with LZU together.
Professor Liang Yongmin, dean of the College, concluded that graduate students should constantly improve four abilities: leaning ability, innovation ability, management ability and communication ability. He also pointed out that students should make innovation through collaboration and concentrate on studying under the guidance of their tutors, adhere to academic ethics and keep the bottom line of integrity in scientific research, strengthen physical exercise, actively adjust mentality and develop good habits in daily life.
3. Holding entrance education to make our knowledge more "solid".
After the welcoming ceremony, Jia Jing, deputy secretary of the College gave a lecture on daily management and systems of graduate students, on which she interpreted relevant systems and administrative regulations of the University and the College and, especially, emphasized habit formulation, internet security, mental health and personal cultivation.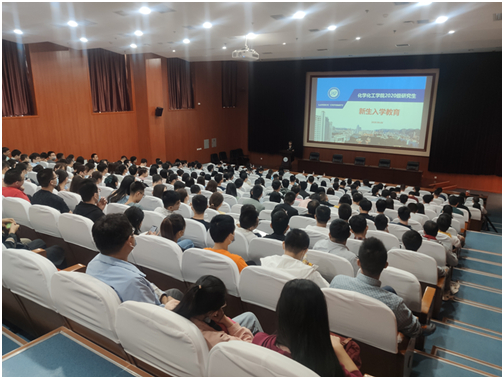 Professor Tang Yu gave a lecture entitled "Academic Ethics and Scientific Norms", on which, in combination with examples of academic corruption and misconduct, she elaborated academic ethics and scientific norms in terms of observing laws and disciplines and carrying forward scientific spirit, worshiping conscientious scholarship and objecting to impetuosity and encouraging fair competition, mutual respect, academic democracy and self-discipline. She particularly emphasized academic norms for students majoring in chemistry and encouraged students to study step by step so that to earn respect and dignity with their own efforts.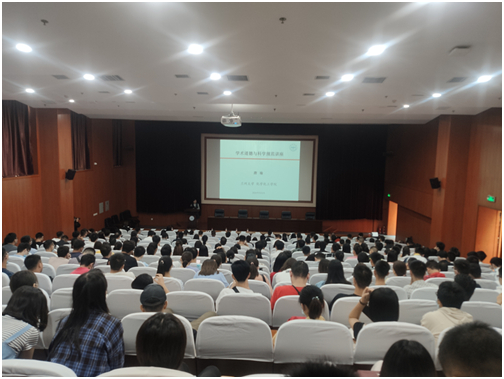 At last, senior experimentalist Lan Jingfeng gave a special safety training lecture to the new. By referring to safety accidents at home and abroad, she vividly explained matters needing attention regarding to laboratory safety, chemical reagents procurement and possible safety accidents and coping approaches, which strengthened the new's consciousness of safety, improved their skills and laid a solid foundation for smooth development of scientific research activities.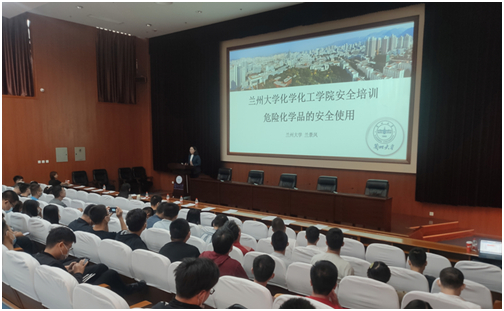 Later, the College will conduct safety training for the new through online 3D virtual simulation experiment platform, and organize examination about laboratory safety.
4. Visiting student dormitory to make the new feel "warmer".
On the afternoon of September 8th, members of the College Party and administration departments along with counsellor and administrative secretary of graduate students went to their dormitories to visit the new. They wished the new to adapt to new environment at an early date, make scientific and reasonable plans on their study and life, be honest, friendly and steadfast so as to repay the University and the society with excellent scientific outcomes and realize personal dream.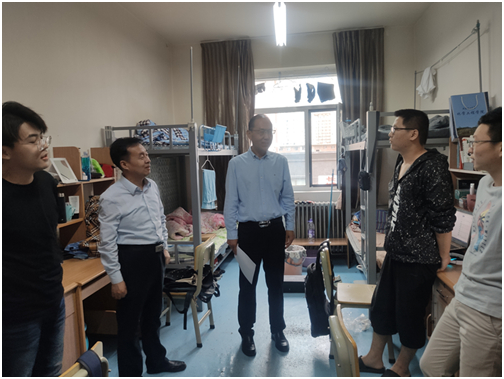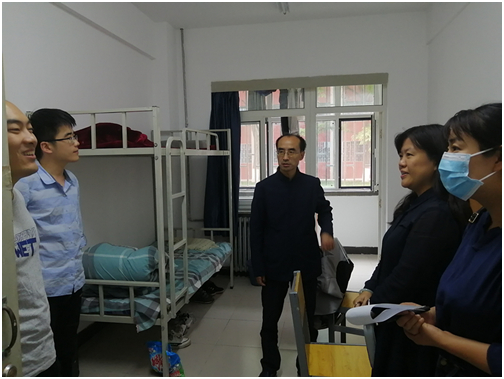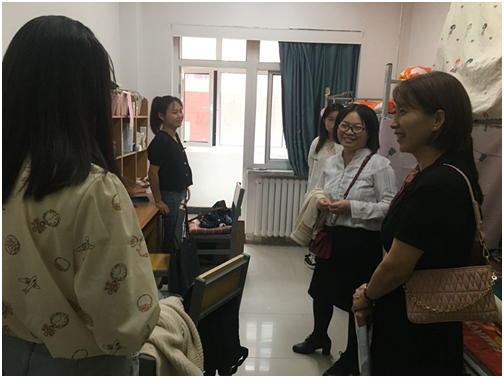 "Well begun is half done.", the College strives to make a good start for the quality education of graduate students admitted in 2020 with considerate service, scientific management and loving care.