Continuing to be the Champion--in Honor of the College of Chemistry and Chemical Engineering for Winning the First Prize in the Lanzhou University Military Training Singing Contest ofClass 2020
By
|
2020-10-01 17:08:00
|
Views ()
On September 24, 2020, under the theme of "Clear Singing, Colorful Youth", the Lanzhou University Military Training Singing Contest for Freshmen of Class 2020 was held in Kunlun Building Square. Composed of the College of Chemistry and Chemical Engineering, the College of Arts and the School of Stomatology, the 10th company of the 4thbattalion performed the Anthem of Lanzhou University and My People My Country and continued to be the champion of this Singing Contest with the remarkable score of 94.46. Zhang Chongfeng, our conductor, was also awarded with the Best Conductor Award. Zhang Haibo, party secretary of the College, Liang Yongmin, dean of the College, and Jia Jing, deputy party secretary of the College, were all there to cheer students on.
Students were arranged to physical training most of the time, thus having only one hour after 9:30 p.m. each day to rehearse songs. Intensive training in the day and long distance from the field to their dormitories made students whined about rehearsals at night. Considering their negative attitude, Zhang Chongfeng and other leading teachers came up with a solution after discussion -- Zhang took full charge of the singing training and the others were responsible for booking venue and cheering them up. Leading teachers actively joined students to sing and encouraged them to sing louder when they went slow. Gradually, the enthusiasm of students was aroused, and the rehearsal went better.
"Come on! One last tone!"
"Hurry up! Take down the lyrics! Sand upright on stage!"
"Remember to follow the conductor!"
Aligned before Kunlun Building, leading teachers constantly informed students matters needing attention. Then melodies rose. All students looked at the conductor and waited to impress the audience with their singing after so many days of hard working. At the end, with the command of "salute", thunderous applause arose from the audience. All hard work were paid off.
When results were announced, students of the College posted on social medias, such as QQ and Wechat, to celebrate our winning. However, it was much more valuable for us to expose freshmen to the solidarity and sense of group honor of the College than winning a contest. They will be a group of people who shall firmly uphold our college motto of solidarity, fortitude, truth and innovation. And in the future, they will be the highly praised chemically literate graduating from LZU.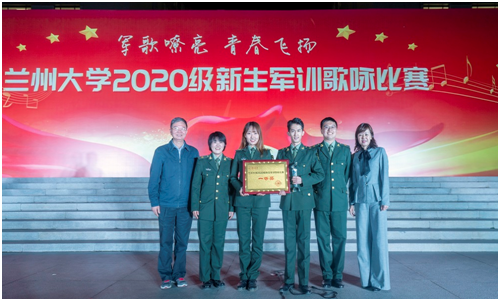 After the contest, principal Yan Chunhua came to extend his congratulations to the 10th company of the 4th battalion for their winning in the contest and took a group photo with them to mark the occasion.