The College of Chemistry and Chemical Engineering Held a Lecture on Laboratory Safety and a Fire Drill
By
|
2020-10-10 17:17:48
|
Views ()
On the morning of September 28, 2020, to further improve the safety awareness, precaution consciousness and self-saving sense of all students and faculty, the College held a lecture on laboratory safety for graduate students of Class 2020 in Conference Hall 1001 of the First Chemistry Building, on which Li Bin, deputy dean of the College, gave a training course of laboratory access to all students, combining with the current situation of chemical laboratories and characteristics of the discipline.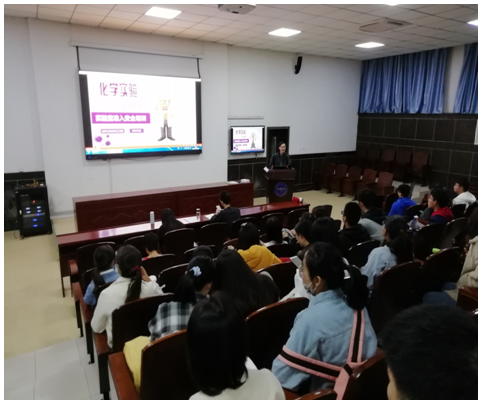 Li Bin explained safety use rules of hazardous chemicals, safety operation rules of experiment instruments, laboratory management system and also relevant standards and requirements of chemical experiment safety embodied in The List of Laboratory Security Check in Institutions of Higher Learning (2019).
After the lecture, coordinated with the Security Department of LZU, the College carried out a fire drill. As the smoke bomb was ignited, alarm sounded immediately. Teachers and students quickly covered their noses and mouths, and, under the guidance of fire protection professionals, orderly evacuated from the laboratory from various safety exits within the expected time. They also introduced and demonstrated how to use dry powder extinguishers for teachers and students. Bearing in mind matters needing attention and regulations, students tried to use extinguishers to extinguish fire by themselves.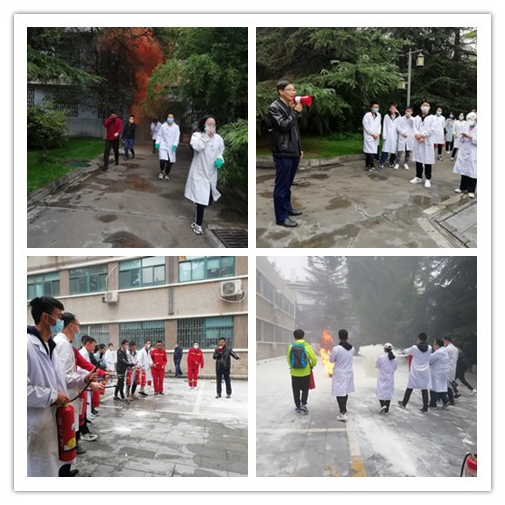 This drill was the third activity of the series of special safety education courses for graduate students of Class 2020 of the College. The safety education for new students is a series of training courses, specially designed by the College, to improve safety awareness and skills of new laboratory staff, covering all aspects of daily operations in laboratories, such as the usage of hazardous chemicals, fire emergency countermeasures, fire fighting and evacuation, safety system, exam for admission and so on. We have invited Lan Jingfeng, senior experimentalist of the Center of College Chemistry, and Zhang Yulong, instructor of Gansu Zheng'an Fire Training Center, to give lectures on how to safely use hazardous chemicals and fire safety respectively. And all new graduate students of Class 2020 took the exam of 3D virtual simulation interactive safe operation education and laboratory access examination.