The College of Chemistry and Chemical Engineering Was Awarded With Multiple Honors at Lanzhou University's Commendation Conference for Combating Against COVID-19
By
|
2020-10-18 14:58:00
|
Views ()
On October 16th, in order to thoroughly study and implement the significant spirit of President Xi's speech at the National Commendation Conference for Combating Against COVID-19, as well as pass on and carry forward the great spirit of fighting against epidemic, LZU held Lanzhou University's Commendation Conference for Combating Against COVID-19 at the auditorium of the Student Center of the western part of Chengguan Campus, on which advanced models were honored for their great contributions in fighting against COVID-19.
The College of Chemistry and Chemical Engineering and alumni of Class 1980 of the Department of Chemistry were honored as "advanced unit of LZU in combating against COVID-19", respectively, on the Conference. Furthermore, four teaching and administrative staff of the College, Zhang Ying, Wang Wei, Li Ting, Wang Shibo, and three undergraduate students, Wu Hao, Zhang Jingxin, Ma Yujie, were honored as "advanced individual of LZU in combating against COVID-19" respectively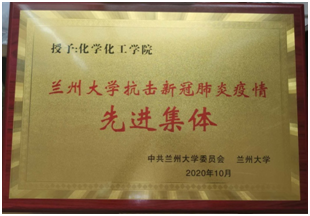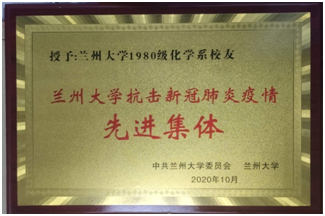 Since the outbreak of COVID-19, the College, as a whole, has been resolutely carrying out the spirit of President Xi's speeches and written instructions and comments, earnestly implementing decisions and arrangements made by the Party Central Committee and the State Council, stringently enforcing prevention and control requirements of the Ministry of Education and local governments at all levels. And by adhering to the overall requirement of "strong faith, monolithic solidarity, scientific prevention and control, and targeted strategy", the College has been firmly keeping to the prevention and control program developed by LZU with all its strength.
By giving full play to the initiative of teachers, students, party members and league members, leadership of the College has actively taken the leading role in making full preparation, efficient deployment and effective measures, and achieved remarkable results in all aspects of pandemic prevention and control. Faculty and staff of the College have stuck to their posts, earnestly performed their duties, actively offered advice and effectively cooperated with each other in information collection and reporting, online teaching, scientific breakthroughs, students' returning to school, and resumption of classes. Students of the College have taken an active part in the volunteer service of college students returning to hometown, actively participated in the pandemic prevention and control, and passed on the positive energy of youth. Due contribution has been made by the whole College to the orderly implementation of the university's pandemic prevention and control work, the ensured health of teachers and students and the absolute safety of campus.
In the new stage of epidemic prevention and control, teachers and students of the College should keep in mind their original mission, shoulder their due responsibilities, continue to carry forward their excellent qualities of conscientiousness and dedication, make overall plans in pushing forward normalized epidemic prevention and control and College development, reform, innovate and work with stamina and diligence to make greater contribution to the construction of a "Double-First Class" LZU.