Students of Lanzhou University Won the First Prize in the Undergraduate Group of the 8th College Student Chemistry Competition in Gansu Province
By
|
2020-11-30 10:48:00
|
Views ()
On November 27-29, the finals of the 8th College Student Chemistry Competition in Gansu Province hosted by the Education Department of Gansu Province and organized by the Guidance Committee of Chemistry and Chemical Engineering Specialty of Gansu Provincial Colleges and Universities, Chemical Association of Gansu Province, the Science and Technology Popularization Association of Gansu Province was held in Hexi College. The competition is divided into the undergraduate group and the higher vocational college group. There are 29 teams of Gansu Province from 14 undergraduate colleges and 15 higher vocational colleges and nearly 300 contestants participated. The Lanzhou University team composed of 10 students from the College of Chemistry and Chemical Engineering and Cuiying College participated in the undergraduate group competition. After fierce competition, the Lanzhou University team won the first place in the first prize of the undergraduate group. Five students from the 2018 class: Lou Zhizheng, Jia Shengyi, Gui Yiqian, Xiao Yongquan and Wang Zhouyang won the special awards (6 special awards in total), and five students, Li Cheng and Li Zichen of 2018 class , Liu Yunfan and Wu Junhao of 2019 class, and Guo Hetao of 2020 class won the first prize.
This year's College Student Chemistry Competition is divided into two stages: preliminary contest and final contest. The preliminary round is a written test, which was unified by Hexi University and organized by universities. On October 24th, the College of Chemistry and Chemical Engineering of Lanzhou University held the preliminary chemistry competition at Tianshan Hall of Yuzhong Campus and Guanyun Building, West District of Chengguan Campus. According to the preliminary results, the above 10 students were selected to form the Lanzhou University representative team to participate in the finals. The final is divided into two parts: theoretical knowledge competition and experimental skill competition. The competition has established group awards and individual awards.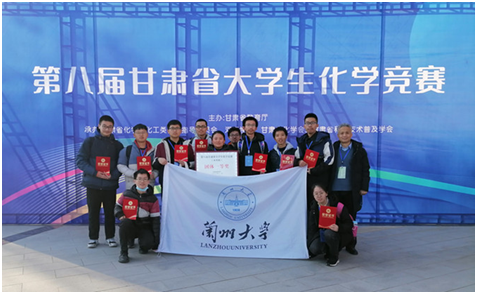 The College Student Chemistry Competition in Gansu Province is held once a year, which aims to promote the reform of chemistry teaching mode, teaching content and teaching methods in colleges and universities in Gansu Province, to explore the ideas, approaches and methods of cultivating innovative chemical talents and to improve the overall level of chemistry teaching in colleges and universities in Gansu Province. It has now become an important platform for brand competitions in chemistry majors and exchanges and cooperation among universities in Gansu Province.