the Physical and Chemistry Forum Held by the College of Chemistry and Chemical Engineering of LZU——Energy Catalysis Frontier Symposium
By
|
2020-10-20 09:12:00
|
Views ()
On October 19th, at the invitation of the College of Chemistry and Chemical Engineering of Lanzhou University, Fan Fengtao, Li Rengui, Guo Xin, and Liu Ji, researchers from Dalian Institute of Chemical and Physics, came to our College for communication and gave academic reports at 101 room in the New Chemistry Building.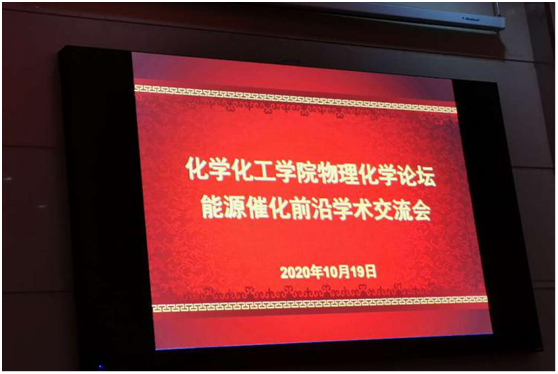 Dean Liang Yongmin attended the forum and delivered an opening speech. He welcomed Fan Fengtao and his colleagues from Dalian Institute of Chemical and Physics. He said that with the support of Academician Li Can, the college is gradually forming a group of research directions on "Energy and Catalysis" relying on physical and chemistry disciplines, and the characteristics of the subject are gradually becoming more and more prominent. He also expects to further strengthen the construction of physical and chemistry disciplines in our college through this forum. Then he encouraged the teachers and students of the whole collegel to focus on the national strategic needs, give full play to the advantages of Lanzhou University's chemistry, strengthen the cross-integration of chemistry disciplines, and make greater contributions to the national strategic needs and talent training in the western region.
It is reported that this forum is divided into two sessions which are the first half and the second half. The first half was hosted by Ding Yong, Director of the Institute of Physical Chemistry and Chemistry, Researcher Fengtao Fan and Li Rengui respectively gave reports on "Research on Photo-generated Charge Imaging at the Interface of Solar Photocatalytic Surfaces" and "Exploration of Photogenerated Charge Separation in Solar Photocatalysis and Large-scale Solar Water Splitting to Hydrogen". The second half was hosted by Professor Shao Xiangfeng, Researcher Xin Guo and Liu Ji respectively gave reports on "Study on the Stability of Perovskite Solar Cells" and "Chiral Catalysis at the Water-oil Interface".