The special seminar on the education of guarding against telecommunication network fraud for graduate students of the College of Chemistry and Chemical Engineering was successfully held
By
|
2020-12-10 21:39:00
|
Views ()
In order to implement the spirits of the Ministry of Education and the Gansu Provincial Department of Education on doing a good job in the education system to guard against new types of illegal and criminal activities of telecommunications networks, and in response to the severe situation which electronic fraud cases are prone to occur frequently on campus, to implement "three advances and three constructions", to carry out the school-wide publicity and education activities on guarding against telecommunications network fraud, to raise the awareness of keeping away from fraud of postgraduates, and to educate and guide graduate students to establish a safe concept of consciously resisting telecommunication network fraud, the College of Chemistry and Chemical Engineering held a special education seminar on guarding against telecommunication network fraud for graduate students in the 101 lecture hall of the second chemistry building on December 9th.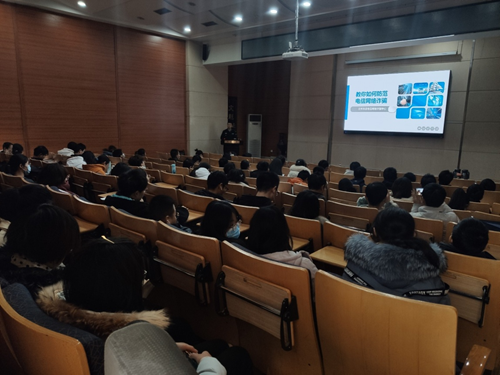 The seminar was presided over by Li Ting, a graduate student counselor of the College of Chemistry, and lectured by Wang Xiang, a policeman from the Anti-Telecom Fraud Center of the Lanzhou Public Security Bureau, more than 100 student representatives from the College of Chemistry and the College of Nuclear Science participated.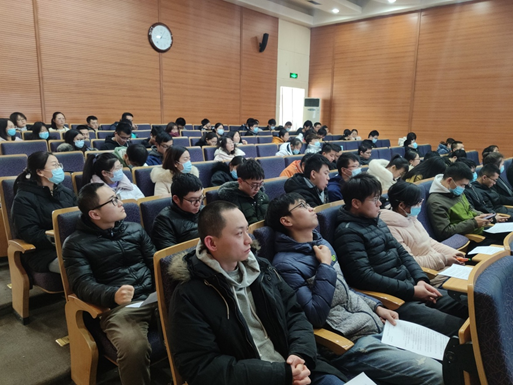 Combining real cases, Police Officer Wang gave a detailed and comprehensive introduction to various fraud methods and countermeasures, focusing on the prominent characteristics of telecommunication fraud hazards and 12 major methods of telecommunication fraud and countermeasures. Through explaining with simple expressions, he reminded vast number of graduate students in school that there are many tricks in telecommunication fraud, and then he called on everyone to do the "Four Nos"-do not listen, do not believe, do not remit, do not transfer; to recite the "Three Character Classics" regularly ——analyze more, ask more, beware more, call the hotline; to achieve "7 all" and "8 all", and to stop loss in time.