"Three Step into" series of reports——Professor Xu Pengfei, assistant of our principal, participated in the class meeting of Class 8 of the 2020 Chemistry Major
By
|
2021-01-12 09:15:00
|
Views ()
In order to further deepen the "three step into" action and promote the in-depth development of the "three holistic education" work, the school implements a system of school leaders contacting student classes.On the afternoon of January 11th, Professor Xu Pengfei, assistant ofour principal, participated in the class meeting of Class 8 of Chemistry of the College of Chemistry and Chemical Engineering, listening to the voices of the students and answering students' puzzles in studying.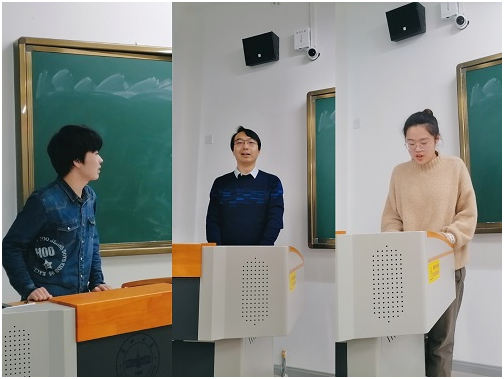 At the class meeting, Che Zheng, the monitor, summarized the class work of this semester from multiple perspectives such as data analysisof students'source, "Blueprint Project" educationof the freshman, organizing class activities, constructing the academic atmosphere, ideological and political education, and proposed the next step of the class planning.Tao Siqin spoke as a student representative of the class, sharing what she had experienced since the first semester of college.Teacher Haijuntalked about his feelings as the head teacher of theClass 8 of the 2020 Chemistry Major and hoped that the students would keep working hard and be able to benefitat university.
In the next session"I ask you answer", Professor Xu Pengfei had an in-depth communication with the students. He pointed out that the most important thing at university is learning, whichis not simply acquiring knowledge from books, but to improve the ability of learning and master the methods of learning.From aimmature youth to a teacher,from seeking knowledge to impart knowledge, Professor Xu Pengfei shared his 37 years of experience at Lanzhou University with his students, encouraging them to seize the precious time of their youth, cherish the opportunities of the times, and continue to seek knowledge and explore truths.He emphasized that "life is a marathon", we must learn to be down-to-earth, plan ahead, and win our "marathon" of life step by step.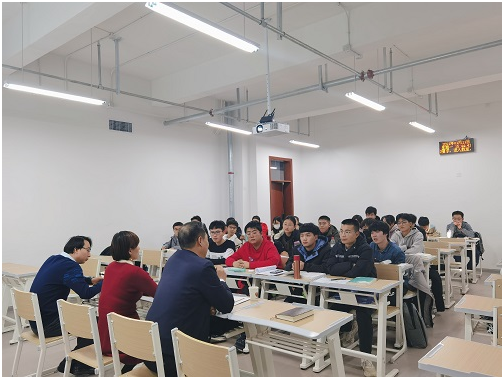 Professor Xu Pengfei answered the students' growing concerns about Cuiying College, the exemption policy, trainingof scientific research andacademic confusion, etc.
Professor Xu Pengfei took a picture with the studentsafter the class meeting.