College leaders check the work of the new semester at the Yuzhong campus
By
|
2021-03-02 09:20:00
|
Views ()
On March 1, the first day of the new semester, the school's party secretary Zhang Haibo, dean Liang Yongmin, deputy dean Hui Xinping, and deputy secretary Jia Jing went to Yuzhong campus to check undergraduates' teaching and the preparation of experimental course, visited the student working group and the students' dormitory.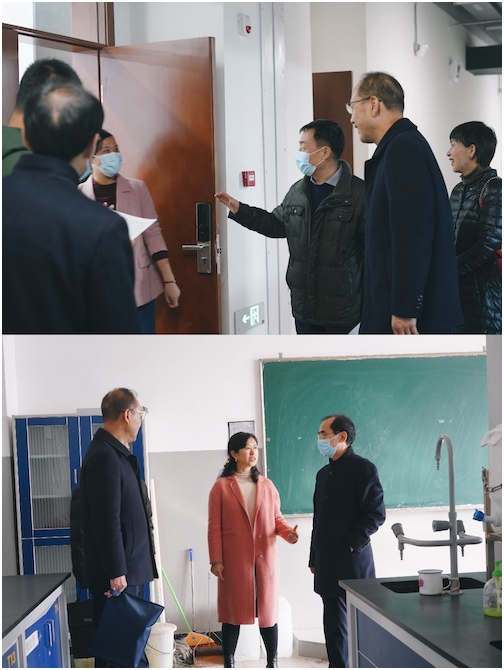 The leaders of the college came to the Tianshantang teaching area and the second teaching building to check the teaching status of organic chemistry, inorganic chemistry, polymer basics and other courses.During the class, the instructor prepared the lessons fully and earnestly, and the students actively participated and concentrated on it, which made a good start for the new semester's teaching order.Afterwards, the leaders of the college went to Helan Hall and the chemical laboratory of Gaoyuan Building to listen to the experiment staff about the difficulties in the operation and management of experimental teaching and the experimental equipment and experimental conditions.
After the teaching inspection, the leaders of the college went to the students' dormitory and cared for the students kindly.They asked about the students' academic planning for the new semester, answered the students' confusion about academic development and personal planning, interpreted the policies that the students were concerned about, such as exemption, employment, etc., and encouraged the students to analyze the situation accurately and choose the direction firmly , keep their feet on the ground and live up to their youth.The leaders of the college visited the instructors in the administration buildingand provided guidance on how to accurately grasp the law of youth growth and carry out the student work better in the new semester.