Gather spirit and strength, be determined to reform, with fast and steady steps, make every effort to promote the construction of first-class disciplines——The College of Chemistry and Chemical Engineering held a college faculty meeting
By
|
2021-09-03 11:21:00
|
Views ()
On the afternoon of September 2, the College of Chemistry and Chemical Engineering held a faculty and staff meeting in 1001 of the First Chemistry Building. All faculty and staff participated in the meeting chaired by the dean Liang Yongmin.
Zhang Haibo, secretary of the college's party committee, conveyed the spirit of the school's summer work conference. At the meeting, he led everyone to learn from President Yan Chunhua's "Steady and Steady Deepening of Reform and Striving to Achieve High-quality Connotative Development in the New Stage of Development", the concluding speech of the school party committee secretary Ma Xiaojie, and the work reports of other school leaders. He emphasized that the main thread running through the school summer meeting is "reform, reform, and re-reform." Through comprehensive and fundamental reforms, high-quality development of schools must be promoted. He showed the overall situation of the school and college reform, the current reform situation and the existing problems to the faculty of the college through data, charts and other methods. And put forward the direction and goal of the college's future reform from the aspects of personnel system and talent training. Finally, he asked the faculty and staff of the college to study and understand the spirit, organically integrate their work with the reform direction of the college, and ensure the high-quality development of the college.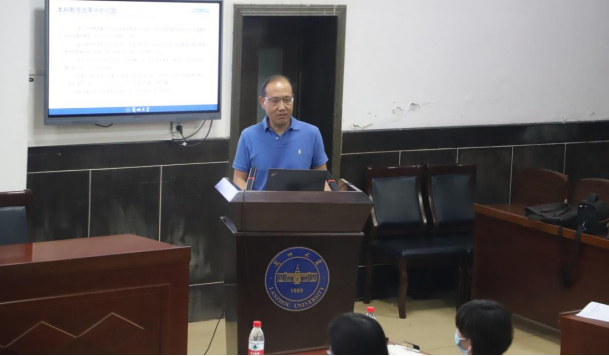 Secretary Zhang Haibo conveys the spirit of the school summer work conference
Dean Liang Yongmin combined with the recent public exposure of the seventh batch of 8 typical cases of violations of the ten standards of teacher professional conduct by the Ministry of Education, interpreted the "Ten Guidelines for Professional Behavior of College Teachers in the New Era", emphasized the "red line" and "bottom line" of teacher ethics and style, elaborated on the achievements and outstanding issues of the college in the construction of teacher ethics and style.
Dean Liang Yongmin is speaking
At the meeting, Deputy Dean Tang Yu made a summary of the work of degree and postgraduate training in the first half of 2021. Hui Xinping made arrangements for the teaching operation related work for the start of the fall semester of 2021, Nie Jianyi reported on the safety work of the college, Jia Jing, deputy secretary of the party committee, reported on the work of the students.
The College of Chemistry and Chemical Engineering is holding a college faculty meeting
In the new semester, at a new starting point, the college will focus on the fundamental task of "cultivating people by virtue", with a new attitude, and with fast and steady steps on the road of first-class discipline construction.